WILMINGTON, DE –July 22, 2016 – Marian Young, President of BrightFields, Inc., was awarded the 2016 Brava Award by Philadelphia SmartCEO and headline sponsor Comcast Business.  The Brava Awards celebrate the distinguished achievements of 40 of Greater Philadelphia's top women business leaders.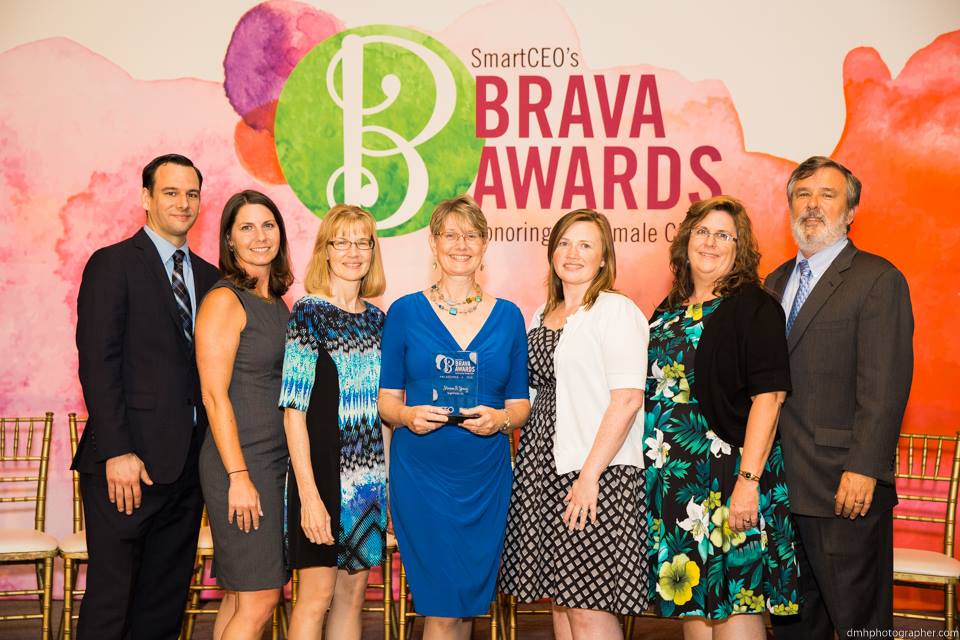 BrightFields is proud to reflect an organizational culture of positivity and high morale that has grown from selfless leadership, team-based decision making, and encouraging rewards.  Marian is passionately devoted to her employees and clients.  She is involved in many organizations including Vice President of the Delawareans for Environmental and Economic Development (DEED), New Castle County Resource Protection Area Technical Advisory Council, Co-chair of DNREC's Ecological Restoration and Green Remediation Committee, a member of the Society of Women Environmental Professionals (SWEP), and the Committee of 100.  She has built a 45-person company of technically strong, responsible, and proactive employees who solve environmental challenges for clients and communities.  Marian says, "We love to innovate at BrightFields!  We work with research scientists to develop and test new remediation strategies, like microbes that degrade polychlorinated biphenyls (PCBs).  We restore degraded streams and wetlands.  We actively train and develop future generations of scientists, engineers, technicians and equipment operators.  Our team is dedicated, hard-working and passionate about cleaning up former industrial properties so they can be used again – to build new roads, buildings, parks or wildlife habitats.  When these blighted areas are redeveloped, the surrounding communities are uplifted and revitalized."
About the Brava Awards
The Brava Awards program celebrates high-impact female business leaders in three categories: CEOs, Executive Directors of Nonprofits, and C-suite executives.  Brava award winners combine their irrepressible entrepreneurial spirit with a passion for giving back to the community, and are exemplary leaders of both their companies and their communities.  They encourage local philanthropy, mentor up-and-coming leaders and set their companies on the path to tremendous growth.  Each year, an independent committee of local business leaders selects winners based on company growth, community impact and mentoring.
About BrightFields, Inc.
BrightFields is a 45-person environmental consulting and remediation services firm headquartered in Wilmington, Delaware, with offices in Philadelphia, Pennsylvania and Baltimore, Maryland.  We are a certified woman-owned business in Delaware, Maryland, Pennsylvania, Virginia, Washington, D.C., and New Jersey.  We are certified nationally by the Women's Business Enterprise National Council (WBENC).  BrightFields specializes in the following:
Environmental Site Assessments
Tank Management Services
Remedial Design/Remedial Action
Brownfield Redevelopment
Asbestos and Lead
Permitting and Compliance Services
Environmental Demolition
Sustainability
Stream and Wetland Restoration
Visit www.brightfieldsinc.com or call Cheryl Titcher at 302-656-9600 for more information.